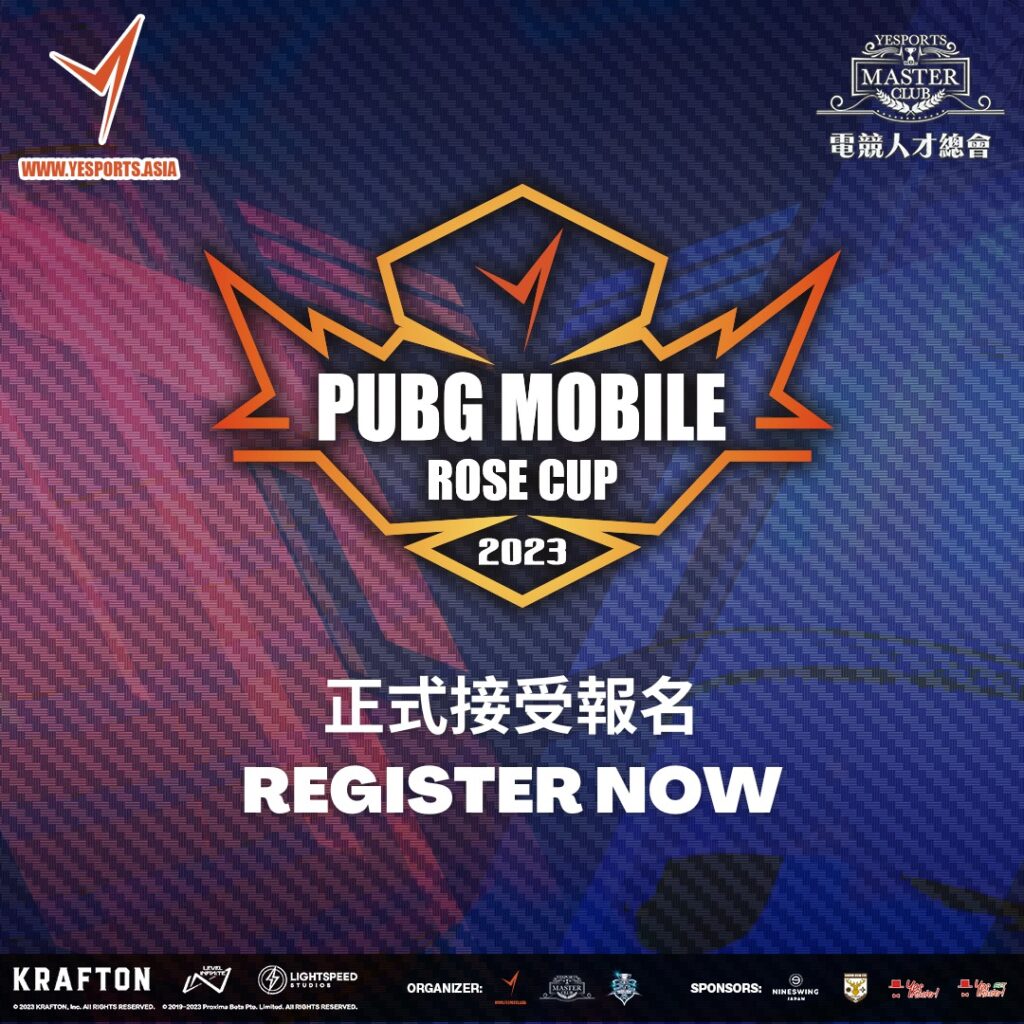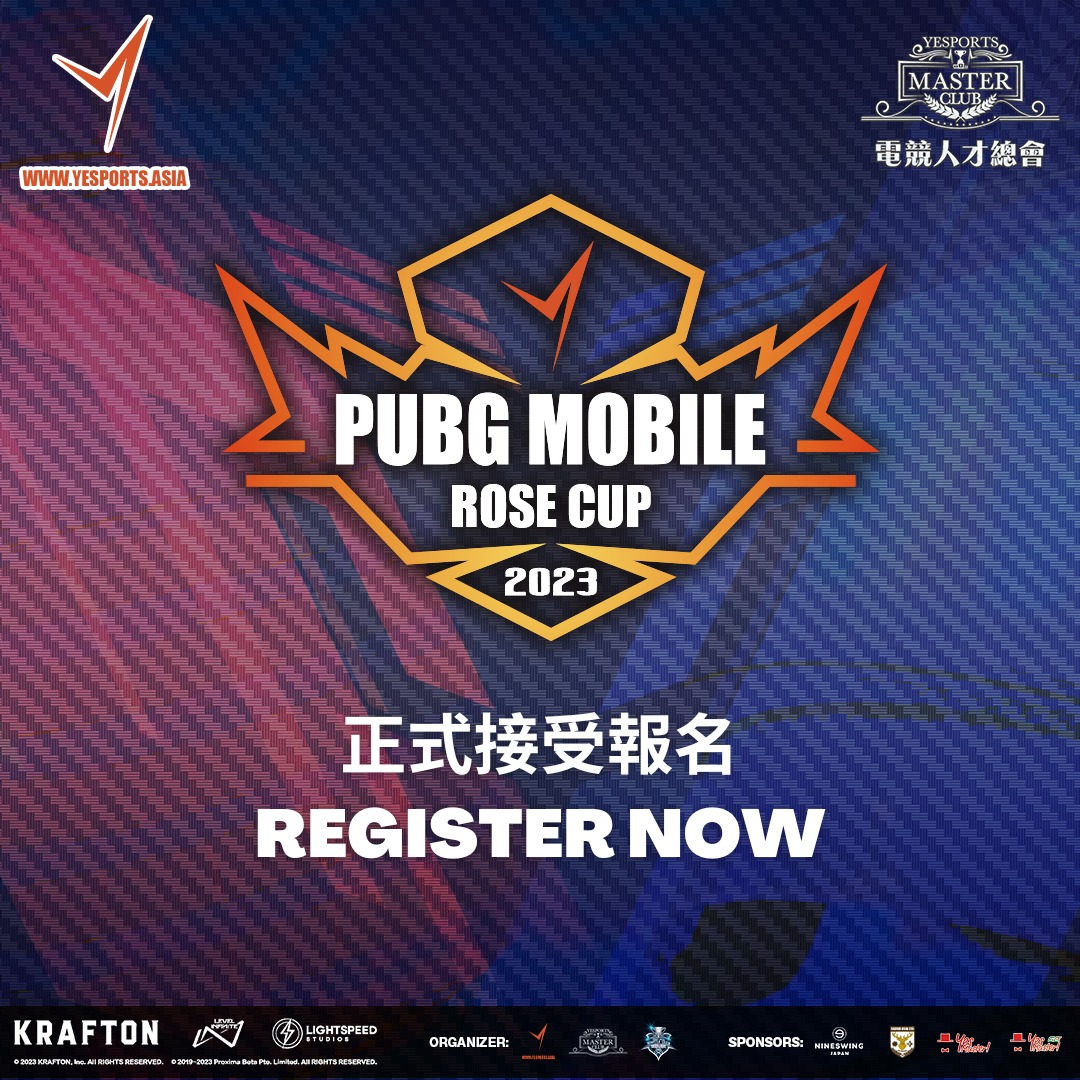 你係唔係搵緊機會喺 絕地求生M 嘅世界中挑戰自己
?依家機會嚟啦,我哋將會同 RoseG 合辦絕地求生M 比賽【2023 Yesports x Rose Cup 絕地求生M 台港澳 東南亞區】,比你同其他高手一齊爭奪冠軍
殊榮,仲有豐富獎金獎品等你嚟拎
!
立即註冊報名,同Share呢個post比friend聽我哋嚟緊有個咁正嘅活動,我哋到時見!
報名方式:
報名日期:2023年5月23日至2023年5月31日(截止時間為香港時間18:00)
比賽日期:2023年6月2日至2023年6月4日
報名人數上限:64支隊伍,系統隨機分配淘汰賽次序
賽事網址: https://www.yesports.info/
參賽者: 需年滿14歲
為了獲得比賽公告的通知,所有選手必須加入我們的 Discord 服務器!
Discord 連結:https://discord.gg/pCUQkQFj
比賽賽程:
比賽將分為海選、決賽。
所有比賽報到時間會在比賽開始前一小時開始。如報到時出現任何問題,選手必須在報到階段提出。過了報到時間才提出,將會視作無效,該名選手會被視為缺席。
獎金獎品 (總值超過15,000港元):
冠軍: HKD2,500 + Nineswing shirt x4
亞軍: HKD1,000 + Nineswing shirt x4
季軍: HKD500
特別鳴謝Nineswing,Safari Asia Limited, YesMaster HK 同 YesMaster GO 對比賽嘅鼎力支持!
——————————————————————–
【2023 Yesports x Rose Cup PUBG Mobile Taiwan, Hong Kong, Macau and SEA
】
Are you searching for an opportunity to challenge yourself in the world of PUBG Mobile
? Well, now you have a chance! We are excited
to announce that we will be hosting a PUBG Mobile tournament with RoseG【2023 Yesports x Rose Cup PUBG Mobile Taiwan, Hong Kong, Macau and SEA】where you can compete with other skilled players for the chance to win the championship
, as well as winning rich prizes
!
Register now and share this post with your friends to invite them to participate this amazing tournament upcoming, we can't wait to see you there!
Details of the Tournament:
Registration Date: 23 May 2023 to 31 May 2023 (deadline at HKT 18:00)
Tournament Date: 2 June 2023 to 4 June 2023
Estimated Number of Teams: 64 teams
Tournament Website: https://www.yesports.info/
Target Audience: 14 years old and above
In order to get notified for the tournament announcements, all registered players MUST join our Discord server!
Discord link: https://discord.gg/pCUQkQFj
Competition Schedule:
The competition will be divided into preliminaries and finals.
All competition reporting times will begin one hour before the start of the competition. If there are any issues during the reporting stage, players must report them. If reported after the report time, it will be considered invalid, and the player will be considered absent.
Prize Pool (Total Value: HKD15,000):
Champion: HKD2,500 + Nineswing shirt x4
1st Runner up: HKD1,000 + Nineswing shirt x4
2nd Runner up: HKD500
Special thanks to Nineswing, Safari Asia, Yes Master! and Yes Master Go for giving fully support to this tournament.
#yesports#PUBGM#PUBGMobile#絕地求生M#吃雞#地表最好玩#台港澳#比賽#Yesportsmasterclub#YMC#東南亞#SEA#tournament