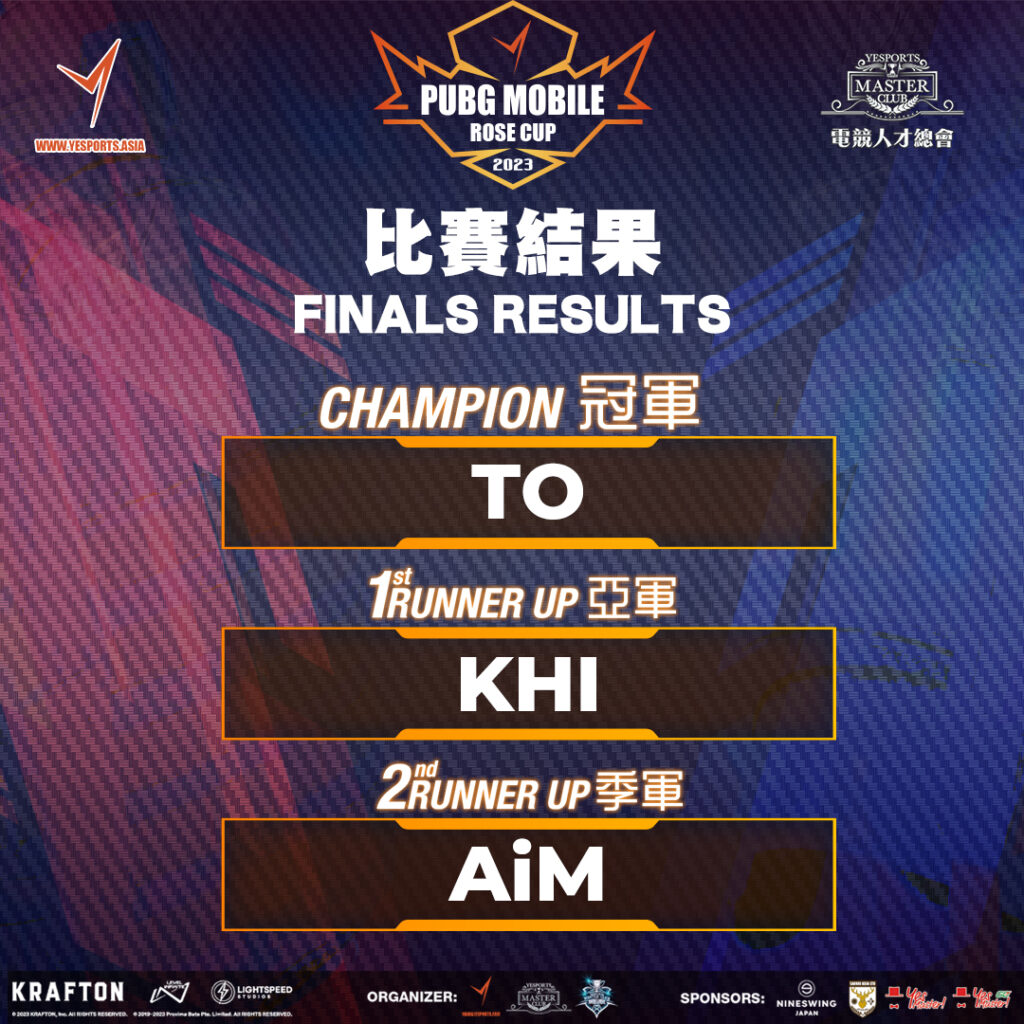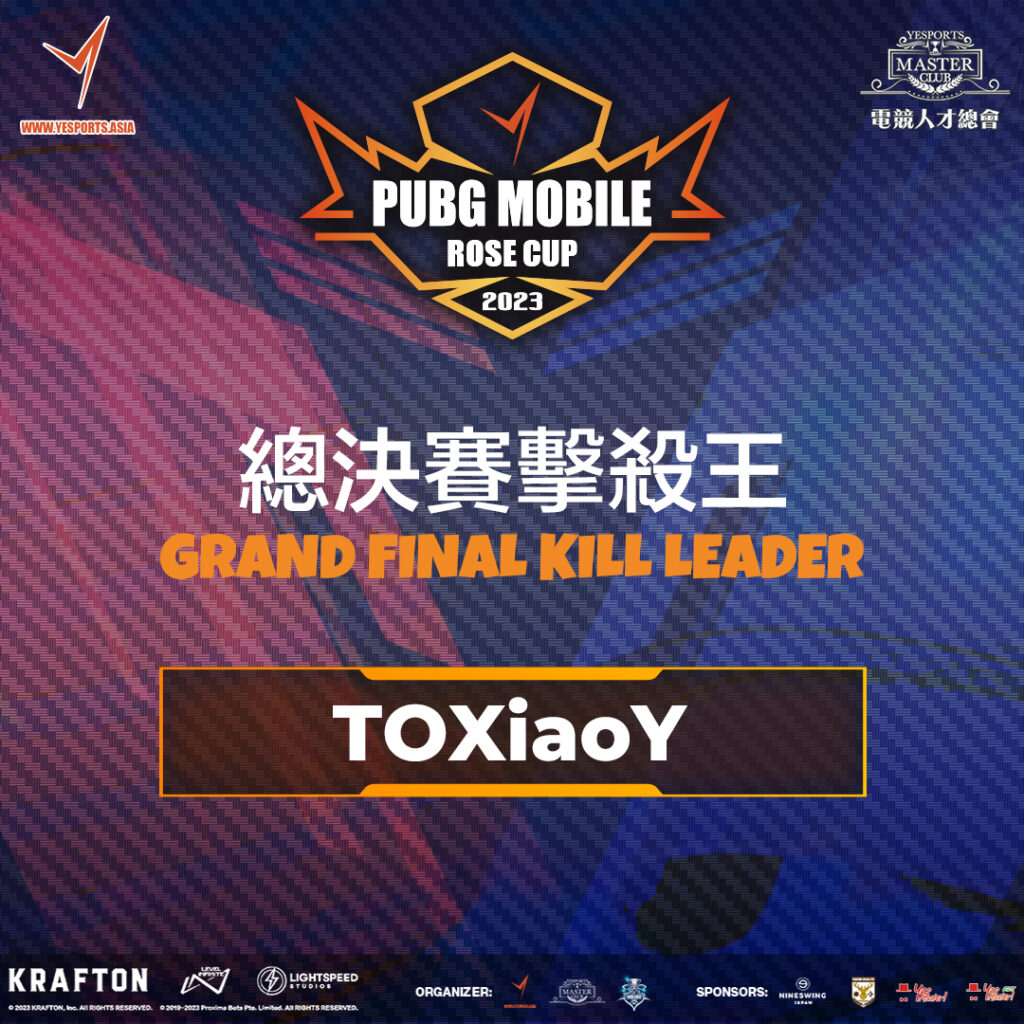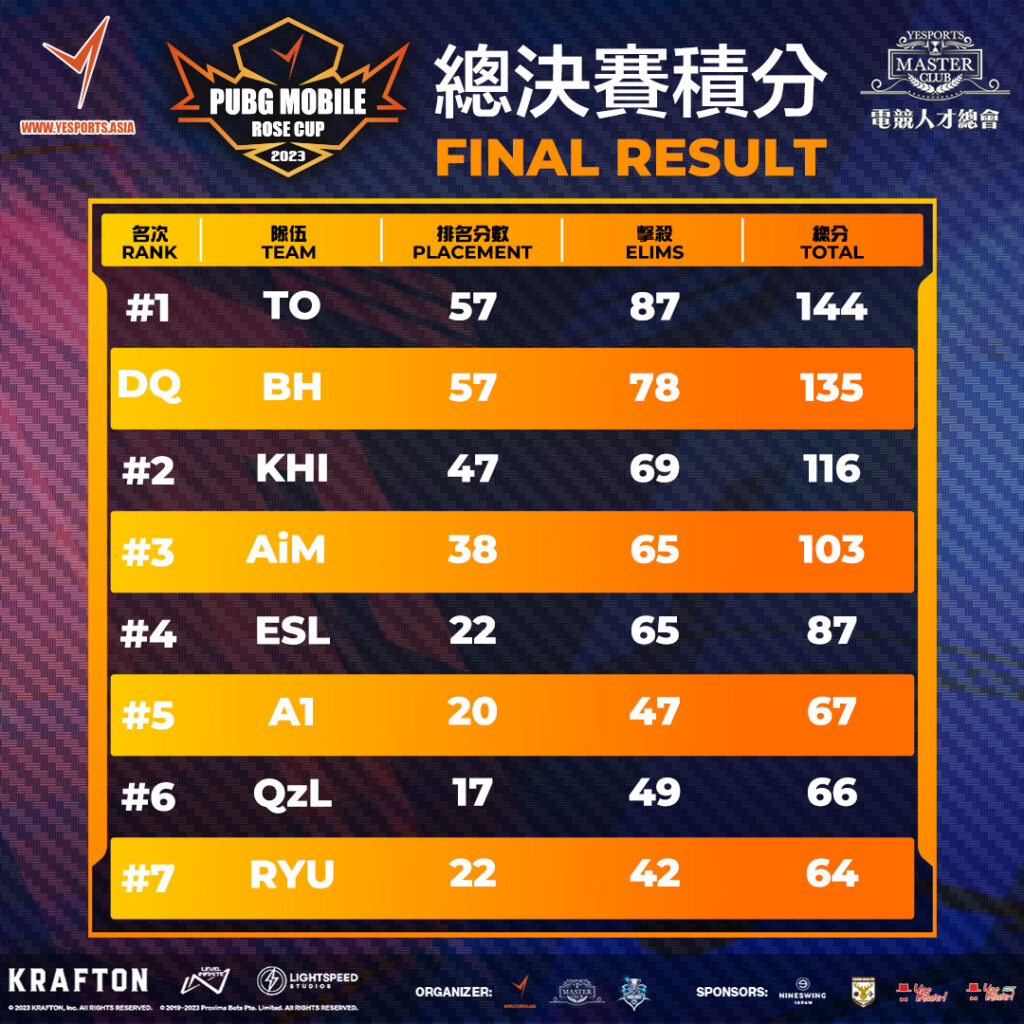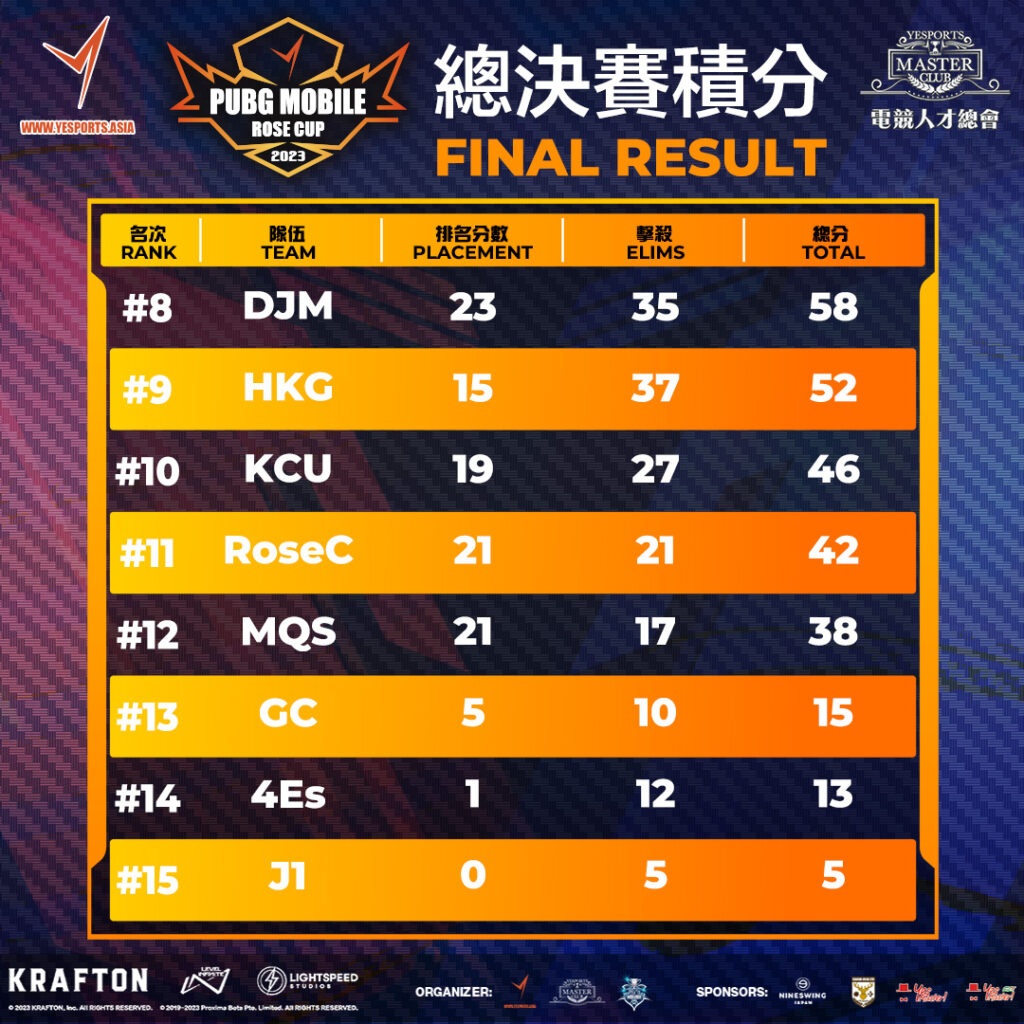 【2023 Yesports x Rose Cup 絕地求生M 台港澳 東南亞區比賽賽果】
2023 Yesports x Rose Cup 絕地求生M 台港澳 東南亞區比賽結果終於出爐了!
經過激烈的比賽
,首3名得獎隊伍及擊殺王分別是:
第一名 – TO
第三名 – AiM
總決賽擊殺王 – TOXiaoY
相信所有參加者展現出的高水平表現和團隊合作的精神都為不少觀眾留下深刻印象!我們再次為優勝者和所有參與者致以誠摯的祝賀和衷心的感謝!
同時,我們還要感謝贊助單位 Nineswing、 Safari Asia Limited、 YesMaster HK 、 YesMaster GO、 RoseG 提供獎金獎品,使得此次比賽得以順利進行。
我們期待在未來的比賽中看到更多的精彩戰鬥和出色表現。
本次活動由Yesports與旗下電競選手 RoseG 共同合辦,感謝 RoseG 在活動組織及賽評工作上盡心盡力,為PUBG Mobile的社群和選手們辦比賽、謀福利!希望Yesports未來可以和更多不同遊戲的選手及社群合作,推動電競和青少年發展!
*有鑑於BH戰隊違反比賽規則,經主辦方審查,最終決定取消BH戰隊的成績及其領獎資格。
【2023 Yesports x Rose Cup PUBG Mobile Taiwan, Hong Kong, Macau and SEA Tournament Result】
The results of the 2023 Yesports x Rose Cup PUBG Mobile Tournament in the Taiwan, Hong Kong, Macau, and Southeast Asian regions have finally been announced!
After intense competition
, the first three winning teams and the grand final kill leader are:
Champion – TO
1st Runner up – KHI
2nd Runner up – AiM
Grand Final Kill Leader: TOXiaoY
We believe that the high-level performance and team spirit displayed by all participants have left a deep impression on many viewers! We once again congratulate the winners and thank all other participants.
At the same time, we would like to thank the sponsors Nineswing , Safari Asia Limited , YesMaster HK , YesMaster GOand RoseG for providing prizes, which allowed the competition to proceed smoothly.
We look forward to seeing more exciting battles and outstanding performances in future competitions.
This event is co-organized by Yesports and its affiliated esports player RoseG. We thank RoseG for his dedicated work in tournament organizing and commentating, and for bringing benefits to the PUBG Mobile community and players. We hope that in the future, Yesports can work with more players and communities from different games to promote esports and youth development!
*In view of the fact that Team BH has violated the rules of the competition, after inspection, organizers have decided to cancel Team BH's results and their eligibility for awards.
#yesports#PUBGM#PUBGMobile#絕地求生M#吃雞#地表最好玩#台港澳#比賽#Yesportsmasterclub#YMC#東南亞#SEA