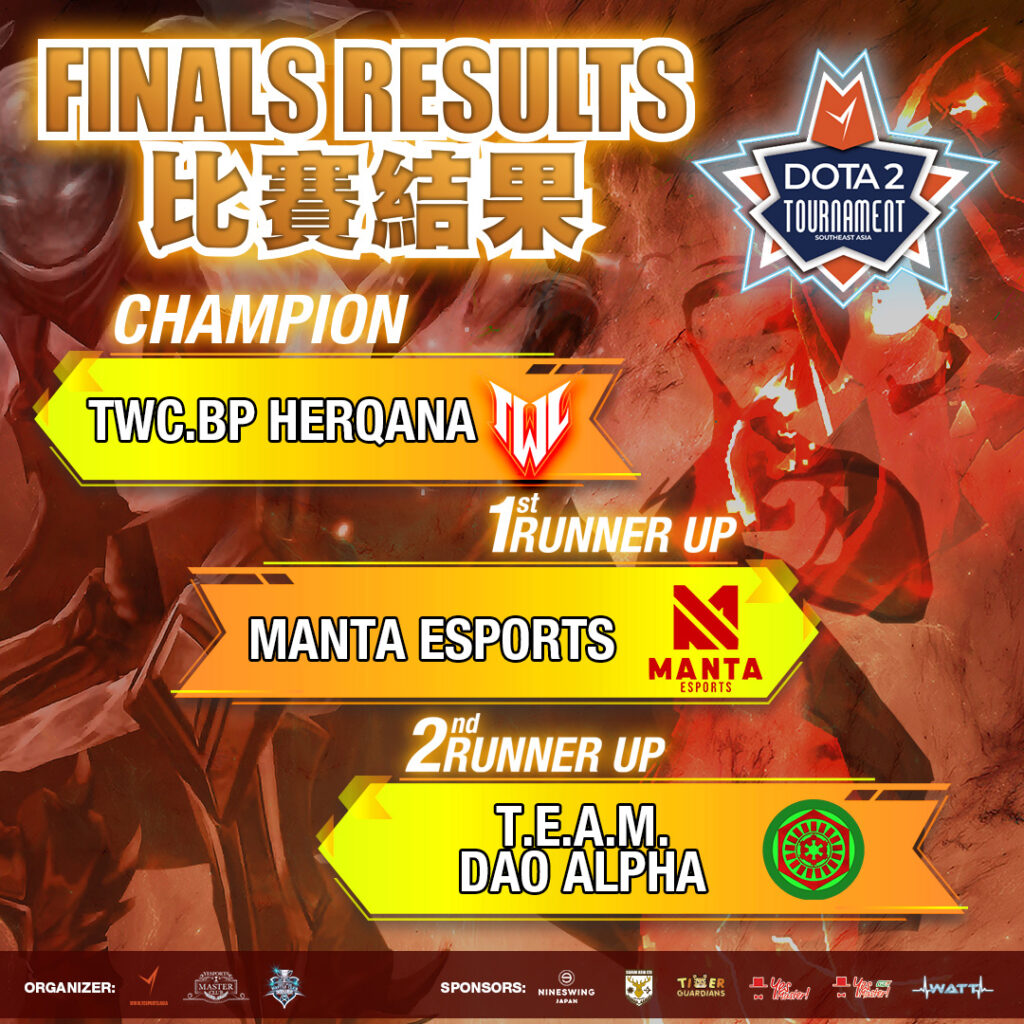 Congratulations
to TWC.BP Herqana for becoming the champion of our DOTA2 Yesports Master Club X Dota2 – Southeast Asia competition!
We all have witnessed
your excellent team spirit
, strategic thinking and extraordinary operation. It is well-deserved to be the champion of this competition!
We would also like to thank all the teams that participated in the competition. Your participation made this competition exciting and memorable. We look forward to seeing you next time.
Also, we would like to thank Sir_Cloud and Ken Lu for professional casting. Your work definitely made our tournament into a high level.
Once again, thanks Nineswing , Safari Asia Limited , Tiger Guardians , YesMaster HK , YesMaster GO and WATT-Labs for sponsoring the prize pool for our winners.
Results:
Champion: The Walled City
1st Runner Up: MANTA Esports
2nd Runner Up: T.E.A.M. DAO ALPHA
——————————————————————–
【Yesports Master Club X Dota2 -東南亞賽區比賽賽果】
恭喜
TWC.BP Herqana成為我哋 DOTA2Yesports Master Club X Dota2 – 東南亞賽區比賽嘅冠軍!
你哋卓越嘅團隊精神
、戰略思維同非凡的操作,我哋都有目共睹
,拎到今次比賽嘅冠軍,實在係當之無愧!
我哋另外都要感謝所有參加比賽的團隊,你哋嘅參與令今次比賽興奮同難忘。我哋期待下次見到你未來參賽。
另外,我哋亦感謝 Sir_Cloud 同 Ken Lu 嘅專業賽評。 你哋嘅表現絕對令我哋嘅比賽提升到另一層次!
再次感謝 Nineswing、 Safari Asia Limited、 Tiger Guardians 、 YesMaster HK、 YesMaster GO 和 WATT-Labs 為我們的獲獎者提供的獎金獎品。
賽果:
冠軍: The Walled City
亞軍: MANTA Esports
季軍: T.E.A.M. DAO ALPHA
#yesports#Dota2#Yesportsmasterclub#YMC#東南亞#TigerGuardians#NFT#SEA#tournament
如想接收最新的選手及電競資訊,記得馬上追蹤Yesports的Facebook、Instagram及訂閱YouTube!
Facebook : https://www.facebook.com/yesports.asia
IG : https://instagram.com/yesports.asia
YouTube: https://youtube.com/@YesportsAsia