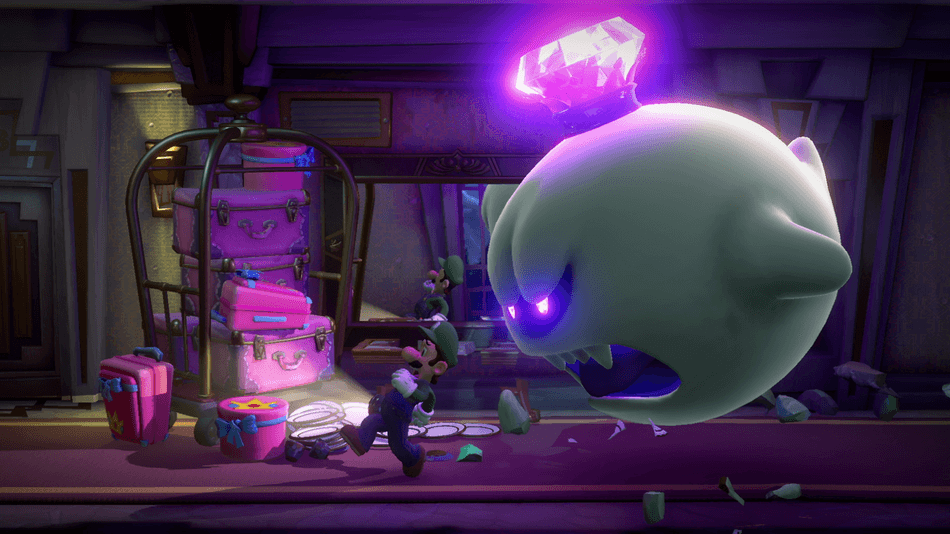 After months of keeping players in the dark, Luigi's Mansion 3 was finally revealed during Nintendo's E3 2019 showcase, confirming our suspicions of a haunted hotel-themed game and returning with an expanded multiplayer from Dark Moon.
A star of the Nintendo showcase, Luigi's Mansion 3 was a hotly anticipated reveal alongside Animal Crossing: New Horizons, and by all accounts it delivered.
Nintendo didn't hold back in its LM3 reveal, offering up a three-minute-plus gameplay trailer demonstrating new functions for Luigi's Poltergust G-00 — frankly, a more interesting and detailed technological reveal than that next-gen Xbox we were all waiting for from Microsoft.
Hunting Ghosts in New Ways
The game development focus in Luigi's Mansion 3 seems clear: Give players more ways to interact with the ghosts and environment around them. One of the more interesting new G-00 features is the "Slam" move, which allows Luigi to keep spookies at bay by slamming around any half-absorbed ghost, noted as being useful for area control in larger battles.
Another new technique Luigi can use is "Burst" mode, which jettisons a flow of air from the G-00 pack to momentarily float Luigi upward, and push away ghosts that have you surrounded. There's even a new "Suction Shot" added to the game, which allows Luigi to shoot plungers-on-a-rope with his vacuum, allowing him to disarm more defensive-minded ghosts of their objects.
A Gooey New Co-Op
Alongside the G-00 enhancements comes a new gameplay element central to Luigi's Mansion 3: Gooigi. A gooey green incarnation of Mario's best pal, Gooigi can be called upon seemingly at will and is able to do things Luigi cannot, like squishing his way through bars ala Robert Patrick in Terminator 2. It's interesting addition that is intended to add another layer of puzzle solving mechanics to the game, allowing the player to swap back and forth between the two characters to overcome varying challenges.
But, Gooigi is more than just a puzzle mechanic.
Gooigi is also Nintendo's way of adding in local co-op for the full story playthrough, and to extend the game's online multiplayer "ScareScraper" from four to eight players. Veterans of the series will recognize ScareScraper as the multiplayer mode found in Dark Moon, though the big difference is the addition of procedurally generated floors in the new game, lifting up the replayability by creating a different layout through each playthrough.
Next Level Games Returns With 'Luigi's Mansion 3'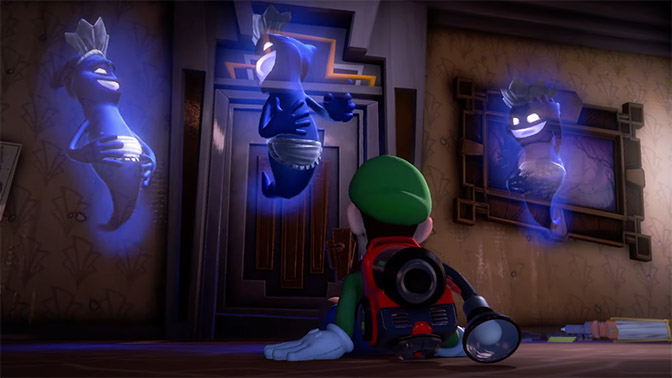 It's been nearly twenty years since Luigi's Mansion has seen a mainline console sequel, with the first title landing on the Nintendo GameCube back in 2001. Since then, the franchise has been relatively dormant, with just 2013's straight-to-3DS sequel Dark Moon to show for it (and that nifty arcade game, too).
With the return of Luigi in Luigi's Mansion 3, so too are we seeing Next Level Games at the helm of development. Though there was some speculations as to who would be making the third installment of the franchise, NLG was always the front-runner given the success of Luigi's Mansion 2 on the 3DS, with Dark Moon.
Although we still didn't get a firm release date at E3 — the game is still slated for sometime in 2019 — it does not appear to be hurting for development time. Not only was Nintendo's trailer polished and impressive, but the development team also sat down for Nintendo Treehouse Live at the event to demonstrate various levels of story mode and multiplayer action.
There might not be a release date yet, but by all accounts, Luigi's Mansion 3 looks ready to ship this year, and it looks every bit worthy of the franchise's dedicated following.
Luigi's Mansion 3 is an upcoming Nintendo Switch title currently under game development by Next Level Games, and published by Nintendo. It's the first installment in the series on home consoles since the franchise's debut in 2001. It is scheduled to be released sometime this year, at a date still to be determined.
Watch 'Luigi's Mansion 3' E3 2019 Gameplay Trailer
Source: Nintendo, GameDevolution