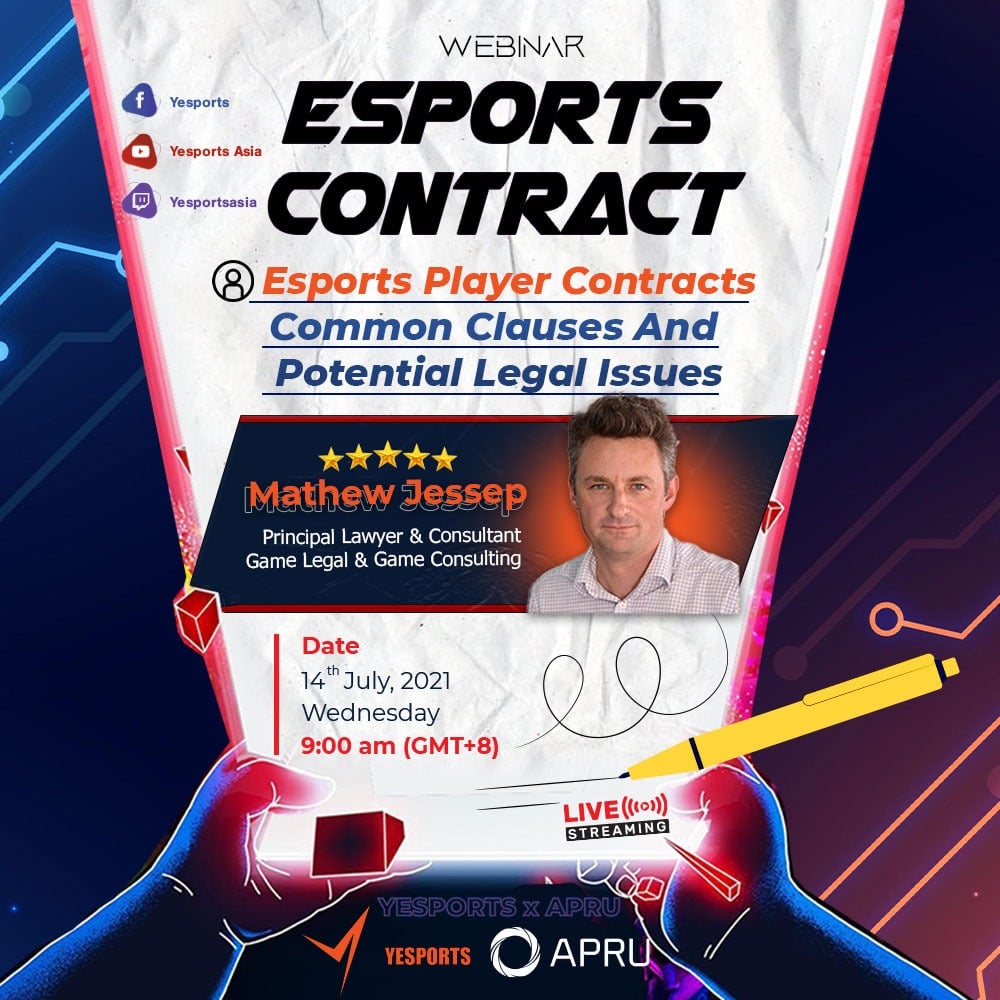 .
Esports, or competitive video gaming broadcasted online, is becoming a popular industry, and it's not stopping anytime soon. According to CNN, eSports is expected to reach global revenue of $1 billion by 2019. That means that professional and semi-professional players need to be proactive about protecting their profits and signing contractual agreements.
.
Esports player and team contracts essentially have the same purpose: they're providing players and team organizations security and outlining the general duties that are expected from both parties. There are some critical factors including restrictions and limitations in a contract that esports players should be aware of.
.
Details-
Date: 14th July 2021 (Wed)
Time: 9am (GMT +8)
.
Presenter Information:
Mathew Jessep is a commercial and corporate lawyer and business consultant with specialist skills and experience in Sports, Esports, Media, and Entertainment, acting for clients in Australia, North America, the UK, and Europe. Mat is a pioneer and leading lawyer and consultant in the fast-growing esports sector, acting for clients with interests in leagues and teams. As a dedicated Sports lawyer, Mat has acted for National Sporting Organisations, State Sporting Organisations, sponsors, broadcasters, and leagues and event operators. In the media and entertainment industries, Mat has advised film producers, artists, authors, creatives, podcasters, streamers, and tech start-ups.
.
Join us by signing up here:
https://forms.gle/oQ6UFpD6o6dLdKSi6
.
Youtube:
https://youtu.be/2Wce2O23n60
Twitch:
https://www.twitch.tv/yesportsasia
Facebook:
https://www.facebook.com/yesports.asia/
.
本節目之主持及嘉賓所作之言論純屬個人意見,並不代表本公司立場。 The remarks made by the speaker(s) of the event represent their personal opinions only and do not represent those of Yesports.